HALIFAX SCREENINGS OF FILMS by NEAL LIVINGSTON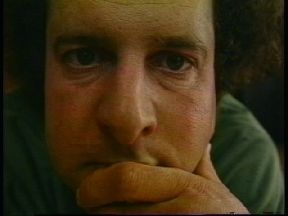 "It's been about 20 years since I did any screenings in Halifax of my films outside of the film festival, and these screenings are the last part of a Canadian national theatrical tour of 100 SHORT STORIES I did this year. All three nights of screenings are a fundraiser for the Margaree Environmental Association." – Neal
Three nights only November 30 to December 2 at 8 pm
Museum of Natural History, Auditorium-Theatre, Halifax
$10.00 admission
Intro and a Q&A each night with each film by Neal Livingston.
All films directed by Neal Livingston.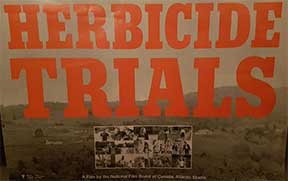 Thursday November 30th 8:00 pm
HERBICIDE TRIALS and JOHN DUNSWORTH: THE CANDIDATE
HERBICIDE TRIALS, 1984, 52 minutes
An NFB production. The film that the forest industry tried to have banned. Screening copy courtesy of the National Film Board of Canada
Synopsis: In 1983, fifteen Cape Breton, Nova Scotia, landowners, and Elizabeth May, went to court to stop the spraying of herbicides by the local subsidiary of a Swedish multinational on forests adjacent to their properties. They found that the testimony of scientists and the support of public opinion, both here and abroad, were not enough to win their case. The film shows their ordeal and the landmark trial. Concerns raised included potential conflict-of-interest situations where a government must protect citizens' health while supporting certain kinds of industry; the relative value of the political and judicial processes in mediating social problems; and the need for a public forum for debating environmental issues. The film contains outstanding footage from chemical-industry films of the 1950s and material about Vietnam veterans affected by Agent Orange.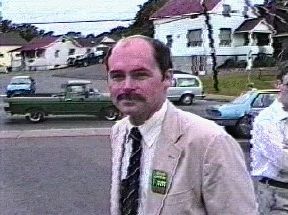 John Dunsworth: The Candidate 1989, 22.20 Minutes
In 1988 John Dunsworth (1946 - 2017), an actor and theatre director (well-known from his role in the award-winning series, Trailer Park Boys) was asked to run under the progressive New Democratic Party ticket in a provincial election in Nova Scotia, Canada. A political novice and an underdog, we watch Dunsworth as he undertakes his grassroots approach. Seeing the campaign through his eyes we come away with a new understanding of the political process. In the end he learns that in order to win it takes more than selling himself, you must first change peoples' basic attitudes towards government and political status quo.
Friday, December 1st 8:00 pm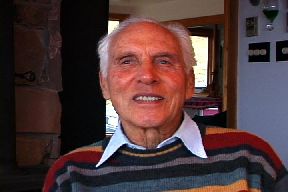 RUDY HAASE and JOHN DUNSWORTH: THE CANDIDATE

Rudy Haase 2007, 51 minutes
One of Canada's great environmentalists, Rudy Hasse passed away at 95 years old this summer in 2017.

A biography about Canada's great unknown environmental and social activist, Rudy Haase. at 85 years old. His life's work has involved preserving wilderness in Canada, the USA, Costa Rica, and New Zealand. In Nova Scotia Rudy Haase has been active for more than four decades on many environmental issues from fighting against the clear cutting and pesticide spraying of forests to opposing uranium mining. The film is also a primer on environmentalism, from Richard St. Barbe Baker to Helen and Scott Nearing, all illustrated by many well-known Nova Scotia environmental battles.

John Dunsworth: The Candidate 1989, 22.20 Minutes



Saturday, December 2nd 8:00 pm
100 SHORT STORIES and JOHN DUNSWORTH: THE CANDIDATE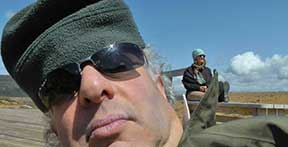 100 SHORT STORIES 2016, 68:30 minutes
Awarded the Energy Award 2016 at Cinema Verde film Festival USA Official Selection; Atlantic Film Festival-Halifax 2016, Planet in Focus-Toronto 2016, BIFED-Turkey 2017

Trumping predatory capitalism, renewable energy, and the fight against fracking, in an often humorous exploration of contemporary life in Atlantic Canada. A diaristic collage of entrepreneurship and environmentalism.

100 SHORT STORIES is the latest documentary from acclaimed Nova Scotian filmmaker Neal Livingston, and his first feature-length film.

With his filmmakers typical irreverence, Livingston interweaves tales of predatory capitalism, eco-activism, and contemporary life in Atlantic Canada, engaging in an offbeat and often humorous exploration of energy policy, governance, and regional culture, in a diaristic collage of entrepreneurship and environmentalism. The film presents a first-person account of a years long struggle to develop Black River Wind a renewable energy project, and overcoming an attempted hostile takeover. Meanwhile, the local citizens of Inverness County band together to defeat oil and gas drilling and fracking coming onto Cape Breton Island.

John Dunsworth: The Candidate 1989, 22.20 Minutes


100 Short Stories Trailer
All screenings sponsored by, and fundraisers for, the Margaree Environmental Association!