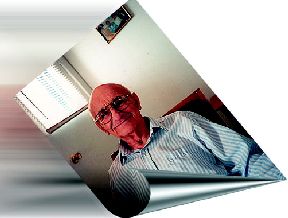 Two of Neal Livingston's films Michel in a Suête and Snow on the Lakehave been selected for screening in the Vancouver 2010 Cultural Olympiad Digital Edition.
Neal Livingston and Black River Productions Limited are pleased to announce that two films, Michel in a Suête and Snow on the Lake have been selected to screen repeatedly in public venues in Vancouver and Whistler British Columbia in February and March 2010. These two films will also be made available on the web and mobile devices starting February 4th.
Neal Livingston says,
"It is pleasure to be a "contributing artist to Vancouver 2010 Cultural Olympiad Digital Edition. I am excited to think of the massive exposure that these films will have this February and March, and that millions of people in British Columbia and worldwide will be exposed to these wonderful films of mine, and also become aware of my work as an Eastern Canadian, Nova Scotia based filmmaker."
Livingston is a documentary filmmaker and artist who lives near Mabou in western Cape Breton Island. He has produced over 30 films, many of which have been seen nationally and internationally on television, at film festivals, and in community screenings.
Michel in a Suête is a hilarious five minute film portrait of artist Michel Williate-Battet as he attempts to do seemingly normal tasks outdoors during a Suête wind storm. It was produced in 1998 as part of a 1/2 hour film about communities that live through hurricane force winds called Suêtes which often pound the north west coast of Cape Breton Island.
Snow on the Lake is a one minute 20 second film produced in 2000. Snow blows over a frozen lake is surreal patterns in a frigid winter landscape, punctuated by a group of children skating by. The images were filmed on frozen Lake Ainslie, Cape Breton Island.